Technology has transformed the world in fundamental ways, and has had an impact not only on the access to information, but also in how governments address transparency and accountability. These realities are creating a new political landscape for the future of cities, which will be analysed during the event.
Promoting transparency and open government with participatory policies is a priority for local and regional governments. With this vision in mind Juana López Pagan, Director of International Affairs of the Spanish Federation of Municipalities and Regions and Coordinator of the Community of Practice on Transparency and Open Government, represented UCLG and highlighted how technology can foster good governance and citizen participation as mechanisms for the prevention and fight against corruption, and how it can contribute to achieve sustainable development.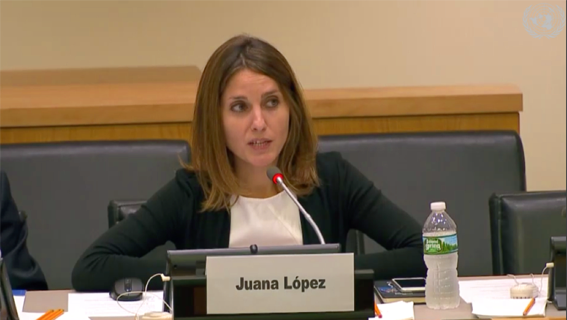 "SMART technologies are changing people's lives fostering social change, economic opportunities and affecting the way the citizens are communicating with the public sector. Around the world, Local and Regional Governments are currently working to move forward and adapt to the ongoing and rapid changes of innovation and to take advantage of this new policy window to be more efficient, to respond to citizens demands strengthening citizens trust and to foster greater transparency, accountability and participation in urban management as part of an effective strategy to achieve the global agendas"  said Juana López Pagán.
As the closest level of government to the people, local and regional governments can take advantage of this proximity to start concrete actions to foster open government by engaging in active policies of transparency, accountability, participation of society and citizen's oversight. Technology can play a critical role in this endeavour by allowing local and regional governments to connect with their citizens, making information more accessible and allowing citizens to take part in the decision-making processes.
About the UCLG Community of Practice on Transparency and Open Government
The Community of Practice on Transparency and Open Government aims to contribute to the strengthening of the global network so that it can become a benchmark for the defence of open governance and public integrity. To do this, it is fundamental to identify joint solutions, collaborations and public policy exchange, as well as learning opportunities and a true commitment towards social innovation.
Throughout the day participants shared best practices in achieving the Sustainable Development Goals and the New Urban Agenda using technology information showcasing good examples of how technology can improve urban sustainability.